Werner Rom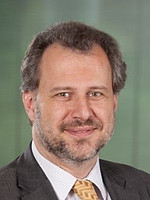 Dr. Werner Rom, born 1965 in Graz, holds a doctorate in physics (Universities of Graz and Vienna) and has more than 20 years of professional experience as an executive, project portfolio manager and strategic consultant in international research, technology and innovation management in leading positions: in industry (e.g. Philips, Head of Traffic Telematics at Efkon, Head of the Research Centre at Swarco), science and non-university research (University of Vienna, Deputy Head of the Research Centre at Swarco), and in the field of research and development (University of Vienna, Deputy Head of the Research Centre at Swarco). Head of Institute Nanostructured Materials and Photonics at Joanneum Research, Research Professor at the University of Aarhus/Denmark, Head of Interdisciplinary Vehicle Development and Human-Centered Systems & Road Safety at the VIRTUAL Vehicle Research Center Graz) and the public sector (Economic Agency of Lower Austria).
Prior to his scientific and technical career, he studied piano and composition (jazz and classical) at the Graz University of the Arts.
He has authored and co-authored more than 70 publications in the fields of cyber-security, wireless sensor networks/wireless communication, applied nuclear physics, atmospheric chemistry, nanotechnology and organic optoelectronics, solid state physics, biomedicine/forensics, archaeology and oceanography.

He has initiated and led a number of complex interdisciplinary R&D projects at national and European level in the fields of mobility (road, rail, aviation), automated driving and 5G, alternative propulsion / electromobility, traffic safety, human-machine interaction / trust, traffic telematics, sensor technology, IoT/wireless sensor networks, etc.
W. Rome is co-founder and CTO of IESTA (since 2009) and lecturer for "Advanced Traffic Technologies" at the Joanneum University of Applied Sciences.
Head of the Project
Univ.-Prof. Dr. Elisabeth
Staudegger
Institute of the Foundations of Law
Universitätsstraße 15 B/E
8010 Graz