Michael Nikowitz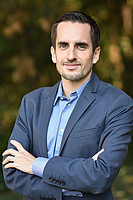 Michael Nikowitz is coordinator for automated driving in the General Secretariat of the Austrian Federal Ministry of Transport, Innovation and Technology.
He holds a Master of Science in Engineering in Mechatronics and Robotics from the University of Applied Sciences Technikum Wien.
For several years he worked in the automotive industry as a robotics engineer and as a laser scientist focusing on ultra-short pulse laser systems. Michael also worked for the Austrian Association for Advanced Propulsion Systems in the field of alternative propulsion systems and their energy carriers, represented Austria at the International Energy Agency and developed roadmaps for eco-mobility and automated driving.
Since November 2016 he has been in charge of the coordination and strategic development of the Austrian Ministry of Transport's initiatives on automated driving in the General Secretariat. He was responsible for the development of the Austrian Action Programme for Automated Mobility 2019-2022.
In cooperation with the Springer Group, Michael has published several articles on the successful implementation of xEVs as well as a book on "System optimization and vehicle integration of hybrid and electric vehicles". His current book "Fully Autonomous Vehicles" provides a comprehensive overview of the current state of the art in driverless cars.
Head of the Project
Univ.-Prof. Dr. Elisabeth
Staudegger
Institute of the Foundations of Law
Universitätsstraße 15 B/E
8010 Graz